Strawberry Lodge,
one of the best value-for-money
conference centres in Surrey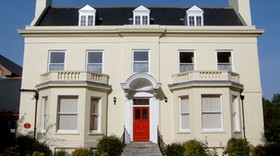 If you're looking for conference centres in Surrey offering good value for money, one venue you need to check out is the historic Strawberry Lodge in Carshalton.
Despite its many fine features - including friendly staff, generous sized rooms, quality catering, free WiFi, free parking and convenient location, about 30 minutes from London Victoria – the centre is surprisingly inexpensive to hire.
If you're running an event for up to 100 people and need to book our main hall for a day, it will cost you just £215. If you wish to hire extra rooms, you can do so at equally competitive prices. And when it comes to food and refreshment, you'll find plenty of high quality but inexpensive catering options also available.
Corporate events
This means you could stage several high quality corporate events at our venue without putting your conference budget under serious pressure.
But price is not the only attraction.
Strawberry Lodge has a history and character all its own. Built in the late 17th century, the centre has been completely renovated. It still retains its original architectural charm, but is now fully equipped to handle the demands of 21st century corporate events.
The result is a unique historic setting for your conference, with a truly relaxing atmosphere that will delight visitors. And all this is backed up by friendly staff who will ensure your event is a success.
For quality and price few conference centres in Surrey can compare. That's why Strawberry Lodge has become the venue of choice for many businesses, government departments and public bodies.
Be sure to ask for your guided tour. If you're interested in corporate venue hire in Surrey, we think you'll be pleasantly surprised.
Contact details
To arrange a visit or to discuss your needs further, please call Pat Ward on: 020 8669 1895.
Alternatively, send an email to: info@strawberrylodge.co.uk


OK, I've read this page about conference centres in Surrey .
Please take me to the Strawberry Training home page