Bespoke business training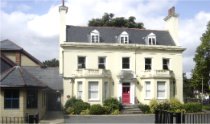 Creative Copywriting for Publishers
Distance learning for the Coronavirus era - August 2020
With much of the world still under lockdown, now could be an ideal time to consider acquiring new skills from the comfort of your home.
The Creative Copywriting for Publishers distance learning course offers all the guidance you'll need to write compelling, professional copy. What's more, you can complete it in your own time, at your own pace.
A new career path                                                       This could be a chance to further develop your writing skills and set yourself on a new career path. Though the training focuses on copywriting in publishing, the lessons you'll learn are relevant to copywriting across all areas of business.
As a student on this highly practical course, you'll be introduced to:
13 powerful tools used by professional writers

15 essential copywriting skills you can quickly master


21 skill-building activities to help you fast track your copywriting career.



Expert evaluation of your writing                In addition, you'll receive expert evaluation of your writing by the course tutor, as you complete five thought-provoking assignments.
This is not a Strawberry Training course. However, we are happy to recommend it. Firstly, because it's been developed by one of our most experienced trainers, and secondly, because it's an excellent course.
And finally. . . it's worth emphasising, that this is a distance learning package where distance truly is no object. You can sign up and enjoy all the benefits of this course from any location in the world.

To learn more visit: Creative Copywriting for Publishers.

Strawberry Training Covid-19 update
Like most UK businesses we are having to adjust to some very new circumstances. The main effect of this is that all our classroom-based courses are suspended until further notice.
We apologise for any inconvenience caused.
However, we continue to support existing clients with emailed exercises and tutorials by telephone or videoconference. At the same time, we are actively involved in converting some of our most popular courses into virtual training sessions.

Our new Coronavirus-safe workshops                      We are determined not to rush this. Instead, we aim to ensure that our new Coronavirus-safe workshops are every bit as engaging, practical and tailored, as our traditional courses.

Interest in these new options has already been significant. We hope you will bear with us as we design and trial the various prototypes under consideration.

Whatever happens, we are determined that we will only go live with our new workshops when they are fully ready. That means when we feel they can reproduce the high-quality learning experiences that our clients have come to expect from our classroom-based courses.

In the meantime . . .
For newcomers to our site, here is quick reminder of some of the training options we have traditionally offered. These will be available for you to book, once more, as soon as the current lockdown ends.
Starting with the big picture, we offer six categories of bespoke training:
Business writing
Corporate communications
Customer care
Journalism
Writing courses for PR professionals
Writing courses for non-native English speakers.
Here are just a few of the tailored options we can provide.

Local government training with a difference
How many training courses are truly tailored to the needs of local government employees?
How many take into account that each local authority is different and may require a different kind of training?
Our 'Writing for local government' course is one of the few that allows for these differences. We let you specify what aspects of local government writing you want us to address and at what level you want us to pitch the training.
If you wish, we'll tailor the entire course around examples of writing produced by your local authority.
To learn more, visit: Writing for local government.
And still on the subject of tailored courses for local government, if writing reports is an issue for you, we have a workshop dedicated to this topic.
More details at: Report writing for local government.
Copywriting in English for non-native speakers
In many international organisations English has become the main language of communication.
Though most copywriters in these organisations do not have English as their first language, their standard of writing can be high.
However, many international copywriters lack confidence because they have not been trained in the basic techniques of effective English copywriting.
Our workshop aims to put this right. It provides a wealth of practical copywriting advice for non-native speakers.
See: Copywriting in English for non-native speakers
We also run a specialist course for non-native speakers of English who blog or are planning to launch a blog.
Visit: Blogging in English, for non-native speakers.
In addition, we have recently launched a special workshop for those who have to write for people across the European Union.
Find out more at: Communicating with EU citizens.

Three courses for bloggers
Among the many business writing courses we run are three tailored workshops, designed for bloggers or those planning to start a blog.
All three address the key issues of successful blogging, including:
how to get people to visit your blog
how to hold their attention once they're there
how to keep finding fresh topics to write about.
1. How to write more effective blogs
This course gives you the tools to create a high quality, professional blog.
Whether you're starting from scratch or refreshing an existing blog, you'll gain a host of practical tips you can use immediately.
Take a look at: How to write more effective blogs.
2. Blogging for the travel industry
This tailored workshop on blogging is one of the few in the world to focus specifically on the travel industry.
Delivered by an experienced travel industry blogger, it provides answers to all the questions you might ask if you write a blog for that sector or are thinking of launching such a blog.
Learn more at: Blogging for the travel industry.
3. Become a ghost blogger
If you work in PR or corporate communications, you may want to check out our tailored workshop on ghost writing blogs.
This course is designed for anyone who has to write a blog on behalf of a client or a senior colleague.
Full details at: How to ghost write a blog.
Upgrade your copywriting skills
If you're looking for fresh techniques to give your copywriting an extra edge, you'll welcome our fully customised course, Professional copywriting plus.
It's still packed with all the proven skill-building exercises and practical copywriting tips that have made it a success with hundreds of people both in the UK and abroad.
But now it covers an even wider range of copywriting tasks. And we've added extra features to make your life as a copywriter even easier.
For more details please see our course description.
Calling all reluctant report writers
If you tend to put off writing business reports because you find the process difficult, here's something you'll welcome.
We have a new workshop that's been designed to remove all the pain from business report writing. It's called Professional report writing plus.
It's unique in combining expert report writing tips with powerful techniques used by professional copywriters.
The result is a highly interactive, one-day course that shows you exactly how to write reports for business - quickly and painlessly. You'll find all the details in our course description.
Our workshop is a world first
We have launched a unique one-day workshop. It's called: Writing web content for young people.
Research suggests no other business training school in the world offers a course dedicated to this extremely specialised subject.
This workshop will be welcomed by the growing number of charities, local authorities, government bodies and major private sector organisations looking to communicate with young people through the internet.
This course can be completely customised. Tell us the aims of your site and the age range of the people who read it and we will tailor our course content to your needs.
If you are interested in writing for younger web users - children, teenagers or even young adults - please take a look at the course description.
Do you edit a charity newsletter?
If you write or edit a charity newsletter, you face a challenging task. You must produce a professional publication within a tight budget, all the while serving the best interests of your charity and the cause it supports.
Our tutor, himself the former editor of a major national charity magazine, shows you how it's done. In this tailored course he provides scores of essential tips to help you rise to the challenge.
Check out: How to write a charity newsletter.
Take the risk out of training
There are few things more frustrating than finding yourself on an unsuitable course. At Strawberry Training we make every effort to prevent this happening by offering tailor made business training.
Before each course we talk to those attending to understand their skill levels and the challenges they face in their work. If appropriate, we also speak to their line managers. We then design a course to fit.
In this way the element of risk is removed. Our clients know that each of our courses will be packed with practical hints and tips tailored to their needs.
Contact details
For more about our business training courses, please call us now on: 020 8773 4718.
Or email: margaret@strawberrytraining.co.uk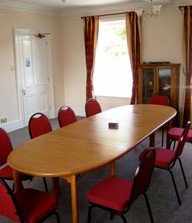 One of our training rooms
More about our business training services
Below we've provided links to other pages on the Strawberry Training website. You'll find information about our complete range of bespoke business training services.
In addition, you can read about our historic training centre, Strawberry Lodge. Based in Carshalton, Surrey, this centre is also available as an inexpensive-to-hire conference venue.
If you are unable to find what you are looking for, please give us a call.
If you're a first-time visitor to Strawberry Training, you'll find our About Us page of interest
A full list of the subjects we cover in our business training courses. Each can be tailored to your needs.
For more about our business writing training courses call 020 8773 4718
Call 020 8773 4718 to find out more about our bespoke corporate communications training courses
Call 020 8773 4718 to learn more about our customer care courses
Call 020 8773 4718 to learn more about our IT skills training courses
To learn more about our journalism courses call 020 8773 4718
To learn more about our bespoke management training courses call 020 8773 4718.
Pick and mix our writing courses to create the ultimate bespoke training package
Tell us about your website and the issues you face when writing for it and we will tailor our Website Copywriting course to your needs.
Our tailored blogging course is run by a professional blogger with many years' experience - please see our course outline
Our Writing Feature Articles course shows you how to create must-read articles to tight deadlines
In one day we'll show you how to write a newsletter that people want to read
Call 020 8773 4718 to book a place on our Writing For An Intranet training course
Call 020 8773 4718 to learn more about our How To Write A Press Release course
Call 020 8773 4718 to learn more about our professional copywriting courses
We offer seven tailored writing courses for PR professionals. Each is carefully tailored to your needs
If you write for a global audience, our writing courses for non-native English speakers will prove invaluable
Our Strawberry Blog Writing Service brings your products and services to a wider audience
A selection of articles from Strawberry Training on business and training
Call 020 8773 4718 to book a course with Strawberry Training, a UK training provider offering customised courses for business and government.
Call 020 8773 4718 for more about our bespoke customer communications workshops on Writing For Customers